Back to all posts
Posted on
Important beginning of the year details you should know: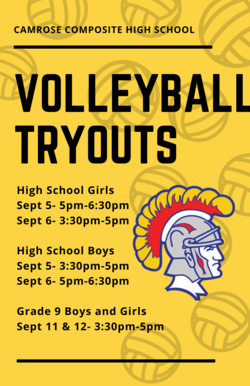 Dear Parents/Guardians:
ÉCCHS staff is excited to welcome students back for another school year and are committed to supporting students while providing high quality teaching and optimum student learning opportunities. Here are some important details that are being put in place for the beginning of our school year to ensure a smooth transition for all:
Timetable Pick Up: 
The majority of returning students received their timetables in June of last year. If students have misplaced these timetables, they will be able to receive another copy before the bell goes on the first day of class (September 5th). These will be handed out in our commons area (Trojan Zone).  Students can also view their timetables through their powerschool accounts.
Staggered start times: 
Grade 9 students will begin class on the morning of Sept. 5th.  All students will meet in the commons area at 8:30 am for a brief orientation and will receive their timetables for their classes.  Grade 10-12 students will not begin class on Sept. 5th until the afternoon.  Those students will report to their afternoon classes. New students in grades 10-12 are invited to attend an orientation at 11:00 am on Sept. 5th.  This will take place in our commons area. Students will receive a brief tour, pick up their timetables and discover where their classes are located within the school.  Buses will not run at noon for students to come to school for afternoon classes.  If students in grades 10-12 cannot find alternate transportation on Sept 5th, they will need to arrive in the morning and remain in the library until afternoon classes begin.  All buses will be operational before and after school.
Textbook handout and lockers:
Text books for the first semester classes will be handed out to each student during the first week of classes. Over the previous few years the majority of students have chosen to carry their books and supplies in a backpack. However, if students would like a locker, these will be assigned during our first week of classes on a request basis.  
New Student Registrations and Textbook Return:    
Students who are not yet registered are welcome to come and register on Friday, Sept. 1st. If any student has textbooks that were not returned from the previous year, please bring those back at this time, or a bill will be sent home for the replacement cost.  
School Supply Lists:
Welcome Back BBQ:
To welcome our students back to school, the student council has organized a BBQ for all students and staff on Sept. 5th.  Grade 9's will begin their BBQ at 11:45.  Any grade 10-12 student wishing to attend the BBQ can join us before their afternoon classes starting at 12:15.  All afternoon classes for all grades will begin at 12:40.
Timetable Changes:
If you need to make a necessary adjustment to your timetable please email your grade level administrator and we will set up an appointment to review your timetable and accommodate any necessary changes.  After September 6th, please feel free to swing by the office to meet in person with your grade level administrator.   Only essential schedule changes will be made as class sizes need to be monitored and adjusted accordingly.  
Grade 9: Sandra Wills- swills@brsd.ab.ca
Grade 10: Shane Gau- sgau@brsd.ab.ca
Grade 11: Chad Kendall- ckendall@brsd.ab.ca
Grade 12: Paula Neuman- pneuman@brsd.ab.ca
Attendance:
Being "on time" for class is directly linked to student academic success.  For the majority of students, they will begin their day in period 2 at 8:40 am and end their day at 3:15. Please note that on "Early Dismissal" days the times  and periods are adjusted and are only half days this year.   Any student that arrives late for any of their classes, will need to check in at the office.
Bell Schedule 2022-23:
| | | |
| --- | --- | --- |
| Students' Schedule | REGULAR DAY | EARLY OUT |
| Period 1 -FACT | 7:15-8:15 | 7:15-8:15 |
| Period 2  | 8:40-10:00 | 8:40-9:30 |
| Period 3 | 10:05-11:20 | 9:35- 10:25 |
| Period 4 - Trojan | 11:22-12:00 | No Trojan Block   |
| Lunch - Period 5 | 12:00-12:40 | No lunch Break |
| Period 6 | 12:40-1:55 | 10:30-11:20 |
| Period 7 | 2:00-3:15 | 11:25- 12:15 |
| Period 8 - Choral | 3:30-4:30 |   |
Door Entrances and Exits:
To eliminate congestion of students in the mornings, at lunch, and after school, we are asking all students to follow the guidelines below:
Gr. 9/12 Students - Will enter and exit the front door of the school on the main (second floor) level only. 
Gr. 10/11 Students - Will enter and exit from the southeast side of the school into the science wing.
If possible, we are asking for the arrival time for all students to be between 8:25-8:40 am.
For the safety of our students and staff, all doors to the building will be locked at 9:00 am, except for the front door.  After that time, all students must enter the building through the front door only.   
Bus students will be dropped off at the east side of the school. Students should proceed to their designated door entrance upon arrival.
Cafeteria/Lunch/Breakfast Program:   
ÉCCHS will remain an open campus for all students over the lunch break (12:00-12:40). This will allow each student the opportunity to leave campus and make their own lunch-time arrangements. If students decide to stay on campus for lunch they must eat in the commons area or find a place outside.  

In addition, the school is still looking into ways of providing healthy hot lunches for our students through our cafeteria. At this time, we will once again be allowing families to place orders and pre-order hot lunches. More information around this will be shared in our newsletter. Microwaves and vending machines will also be made available. This year we will have a select few lunch items to purchase over the lunch break for those students that missed ordering hot lunch or that choose to stay on campus. 
Our Breakfast Program will be provided to any student who needs breakfast.  This will be served out of the cafeteria starting at around 8:15am.  This is a grab and go breakfast that consists of granola bars, muffins,  juice, fruit, and other breakfast items.
If you have any questions that haven't been answered here, please be in touch with us. We will do our best to continue to provide updates throughout the year and will keep you informed around school related activities. Please continue to check our website at cchs.brsd.ab.ca and the Battle River School Website at www.brsd.ab.ca.
Yours in Education,
Shane Gau
Principal, ÉCCHS